The Best
Dentist In Kochi
A complete Dental health Care in Kochi: Offering a great opportunity to experience Mystic Kerala with World Class Dental Treatment viz., Dental Implants. Relaxed, aesthetic and comfortable (dust-free air-conditioned) environment of the Dental Clinic helps the patient to regain his/her confidence and overcome the apprehensions. Plush interiors of the clinic, green plants, and the most hospitable staff make Dr. Nevins Family Dental Clinic more comfortable for the patient. Dr. Nevins Family Dental Clinic is dedicated to a totally comprehensive dental care approach that focuses on promoting health rather than treating just the disease. Our main goal is to provide a high level of expertise and service in a calming professional atmosphere combined with the latest state-of-the-art technologies and equipment.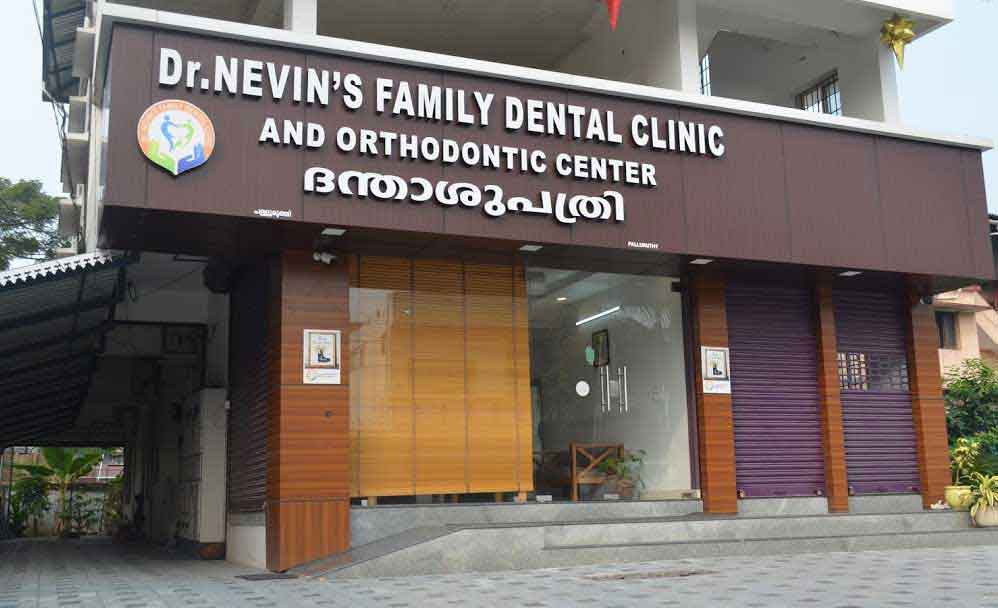 Welcome to the world of Dr. Nevin's Family Dental Clinic in Kochi
Dr Nevins is one among the best dentist in Kochi & His Family Dental Clinic is an ISO Certified Dental Clinic Located in Suriyani Palli Junction Palluruthy very near to Thopppady , The Clinic is a Center For Excellent in Dentistry Run by Dr Nevin Thomas and His wife Dr Jefna Nevin . Clinic has specialist doctors in all clinical branches of Dentistry which include Conservative Dentistry and Root Canal Treatment. Orthodontics (Braces/Clip) Periodontics (Gum Treatment) Pedodontics (Childrens/ Kids dentistry) Oral and Maxillary Surgery and For Dental Implants making the clinic in one of the Best Dental Clinic in Kochi We have car parking facility of up to 10 cars exclusively for Dental Clinic, We follow world class infection control protocols and Sterilization of instruments and equipment , Dedicated Kids room ample patient waiting area and we provide homely atmosphere making patients be more calm. Clinic has friendly and polite staffs and doctors as well as use mailny world class dental materials and equipments only
Our Team
Dr. Nevins Family Dental Clinic, Cochin is under the direction of experienced Dentist, Dr. Nevin Thomas BDS, MDS, and his wife Dr. Jefna Nevin, BDS. Dr. Nevin was the former Asst Professor of Kollenchery Mission Medical College and Indira Gandhi Dental College in Kothamangalam. Currently, he is Associate Consultant in Aster Medicity Cochin and Little Flower Hospital Angamaly. All other dentists and staffs in the clinic are highly trained and experienced. Our team is highly committed to giving the patients the best care possible. Patients are assured that they will receive consistently high-quality care no matter which dentist they consult. Patient safety is the clinic's priority. We ensure maximum protection for the patients, our staff consistently applies various state-of-the-art sterilization and disinfection techniques and protocols on all instruments and dental rooms.
Mission
The mission of Dr. Nevins Family Dental Clinic is in developing long-term relationships with our patients ensuring distinguished service through personalized, honest, ethical and informed care. We are aiming for helping our community at larger achieve excellent oral healthcare through high quality, multidisciplinary dental, and cost-efficient dental services and procedures.